Ticket Stubs
One of the fun ways to get involved in a hobby involving the Bucs without breaking the bank is collecting the old ticket stubs. In the last year or so, Bucs season ticket holders have been given a credit card type of master ticket. Not only that, but ticket master has been issuing tickets on a sheet of paper with code on it.
da
Yes its a little bit of a hassle taking a bit piece of paper like this with you into a game, but it doesn't get lost.
This is a ticket stub donated by Mark Fisher, of the Bucs first win vs Wfit
Scalpers don't like these too much, because buyers are usually unsure if a duplicate has been made, and an actual seat will be waiting for them when they enter the stadium!
Of course the collections that really interest people are the famous games or games of big importance.
Quality of the tickets are important too, if they are crumbled up in someones pocket for a long time, which is hard NOT to do with a real ticket!
                                                                                                                     Its a stark contrast with a Ticket Master ticket from the 1998 Season. This ticket is from my collection, my first game at Raymond James Stadium during the first season there. My first game was the Bucs against the Minnesota Vikings who were undefeated at the time. That was one heck of a game, and I just knew at the time it was going to be a game to remember. The Bucs beat the Vikings and put the only regular season loss on the team in Purple.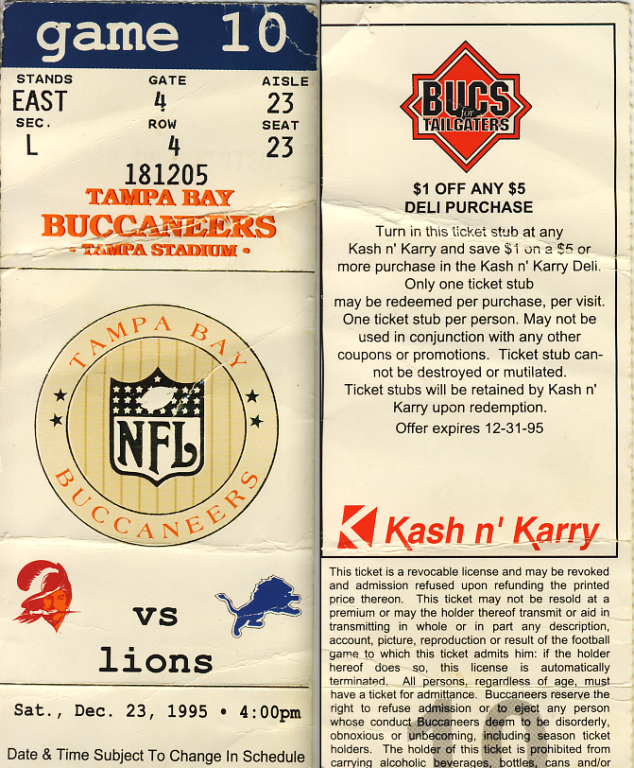 Lets go a bit farther back in time.. 1995 and one of the last
years of the old sombrero, Tampa Stadium!
This is a real ticket, not a Ticket Master, but one probably from a season ticket holder. If I remember right, this was my friends company's seats, 4 rows up behind the visitors side.
Its the last game of the year, and Sam Wyche is on his way out of town. Earlier in the day, fans at the Meadowlands threw snowballs at refs and players to show their displeasure.
Well a few pitchers of beer later, snowball were not available, so we were throwing wadded up program sheets at Kicker Jason Hanson, one just missed Barry Sanders by 3 inches, and not saying very nice things to Bennie  Blades!
Stuff you do when your young! Hope the statute of limitations is up.
The following are unused Season Tickets from 1982 Strike year.  Hope your 2011 tickets don't end up here one day!                                                             

1982 Vs Green Bay Season Ticket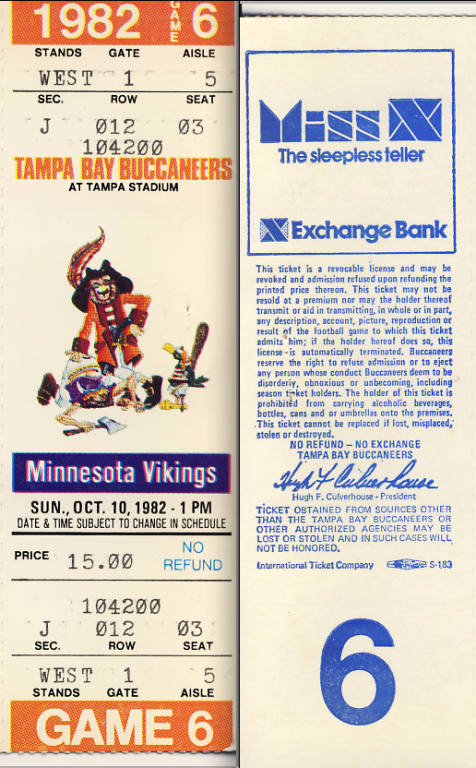 1982 Minnesota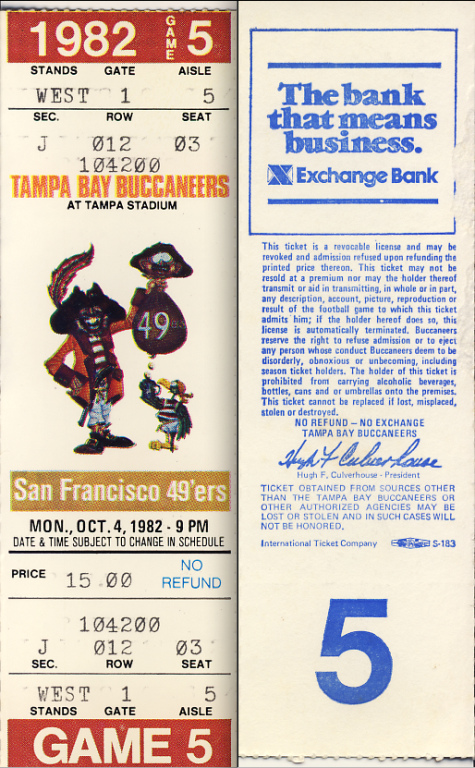 This next stub is from the 75th anniversary NFL season, when throw back uniforms first started! This is the Bucs first ever punt return for a touchdown by Vernon Turner.

2007 Week 2 vs New Orleans
The next ticket was an upgrade by Joel Glazer as I was a guest of Paul Stewart/Bucs UK. Notice the ticket price? Thats how much a club seat on the 50 costed in 2008.

Up next, 2007 Playoff game, which cost me 250 on Stub Hub including parking pass.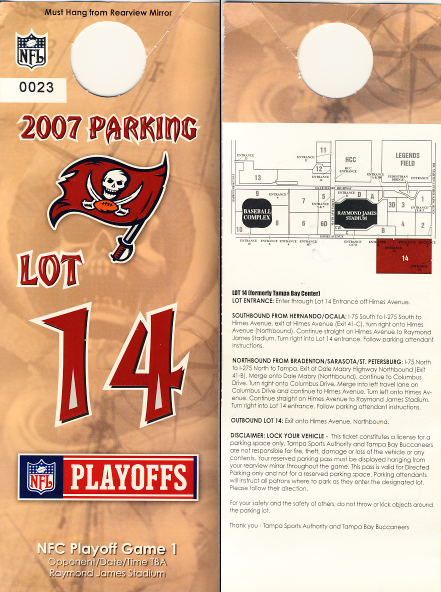 Below is the floor pass, which allowed me onto the field presume for the Mike Alstott ceremony game.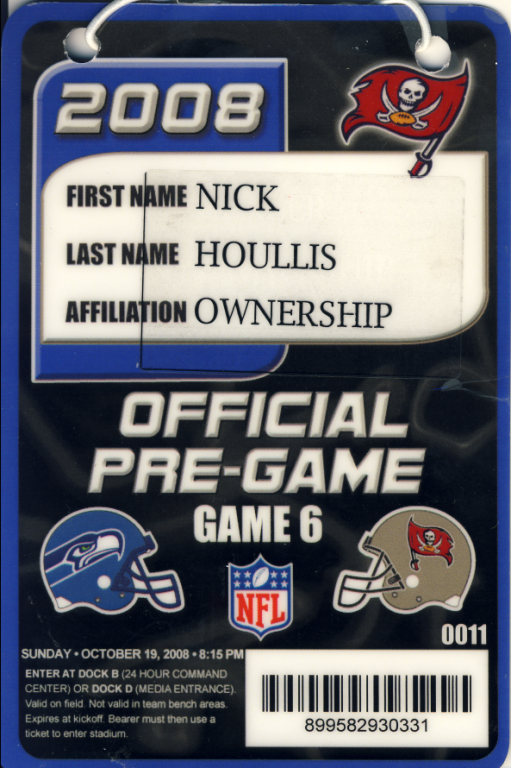 Below is the 2009 Field Pass for the throw back game vs Green Bay. Thanks to Paul via the Glazers, we sat in the Pirate ship (Pass is below)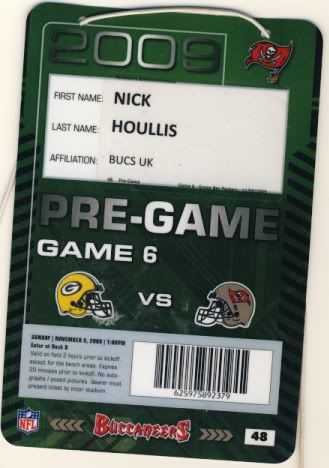 Pirate Ship Pass is below..
Whats below is most sacred folks…the last game at Tampa Stadium…Bucs vs Lions Playoff game!!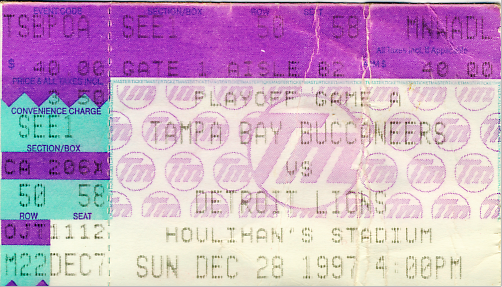 Speaking of playoff games, the 1999 Playoff game vs Redskins.

Since were talking 1999, here is someones tickets from the St.Louis NFC Championship game…

You would never know the Bucs weren't going to wear Orange anymore in 97! Here is a stub from the Oakland game in Tony Dungy's first year. This was the game the Bucs won that started the winning streak.

If you went to see the Bucs Playoff game at Dallas in 1981, your ticket would have looked like this…

RUN MICHAEL RUN! I was there for the first Punt return AND Kickoff too!